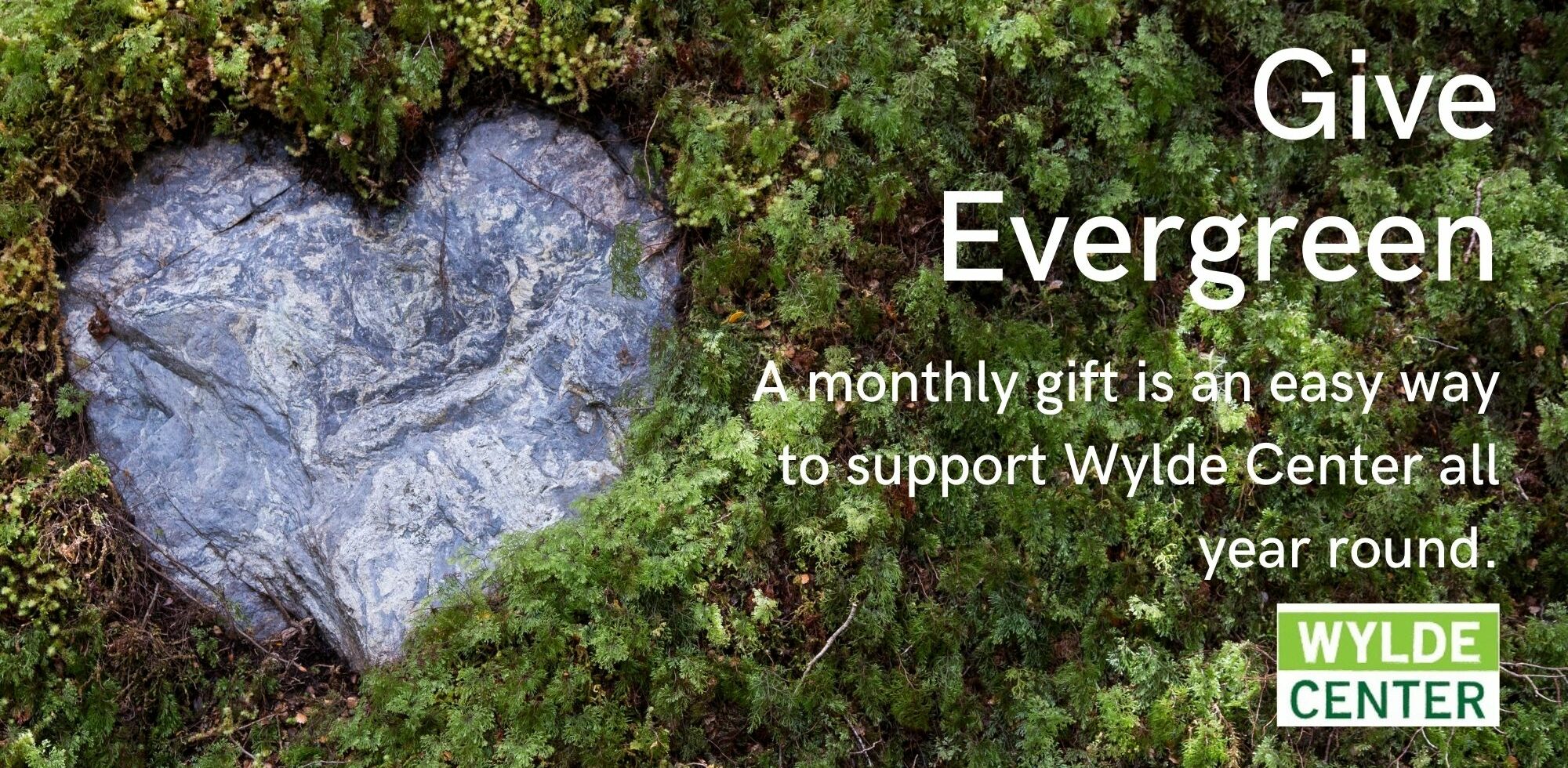 Make a Big Impact with your Monthly Donation
Wylde Center's Evergreen Donors are a special group of members dedicated to supporting resilient communities by connecting people to nature through environmental education and public greenspaces.
Our Evergreen Donors make affordable, automatic donations every month, which makes it easier for Wylde Center to plan long-term, budget more efficiently and create more life-changing outcomes. You choose how much to give and for how long, and you can change your amount or cancel at any time.
We are inviting you to become an Evergreen Donor today. Help us connect more people to nature with your monthly donation.

What makes Wylde Center special?
Importance of our Greenspaces
We provide 7 acres of greenspaces and gardens that are open to visitors every day.  We are helping rebuild our natural environment by planting trees, shrubs, flowers, and bulbs and giving a home  for birds, animals, and insects.
Community Outreach
Our gardens help to creating common ground for neighbors to connect with each other.  We help build their sustainability skills through our events and gardening classes.  And, we provide volunteer opportunities each week for people of all ages to connect with our gardens.
Our Education Programs are helping get children back outside
Wylde Center connects kids to nature through neighborhood gardens by enriching their education through nature based curriculum and empowering them to live more resilient lives.
We are changing our corner of the world
Wylde brings resources to communities through educational programs, events, and greenspaces that actively engage youth, families and individuals in their environment, health and community, and that develop skills in environmental science, sustainable urban living, organic gardening, health, and nutrition.
Tailored to you
Become an Evergreen donor at any level. You can change or cancel your monthly gift at any time.  It is an easy way to include charitable giving in your monthly budget for long term planning.
With monthly donations, Wylde Center is able to plan how the funds will be used in an impactful way. Whether that be with greenspace upkeep or buying fresh vegetables for our afterschool programs, these monthly donations make an important impact.
Discounts for every occasion
By becoming an Evergreen Donor, you get discounts on our classes, events, and youth camps.  We appreciate our members, and every way that we can, we thank you for your generosity.
Save trees and time
You know how your mailbox fills up at the end of the year with donation requests? As an Evergreen Donor you will not receive a letter from us because you are already donating each month. That saves you time and Wylde Center uses less paper. 
Your health will thank you!
Studies have shown that donating to a worthy cause has positive effects on both one's mental and physical health. It lowers blood pressure, stress, and depression and increases your self esteem at the same time.
Frequently Asked Questions
Start your monthly gift today!