Wylde Center's mission is to educate, cultivate greenspaces and build community in the areas we serve.
We offer educational programs, events and greenspaces that actively engage youth, families and individuals in their environment, health and community, and that develop skills in environmental science, sustainable urban living, organic gardening, health, and nutrition.
Wylde Center was founded in 1997 out of a need to provide opportunities to experience nature in an urban environment. Thanks to the community's involvement and commitment, we now operate five greenspaces in four different Decatur and Atlanta neighborhoods, open year-round for the community, for events and for our educational programs. Wylde Center also provides one of the largest youth environmental and science education programs in metro-Atlanta, including the Decatur Farm to School program, Atlanta Farm to School, Healthy Living by Healthy Growing at the Decatur Housing Authority, and science program and field trips linked to Common Core standards.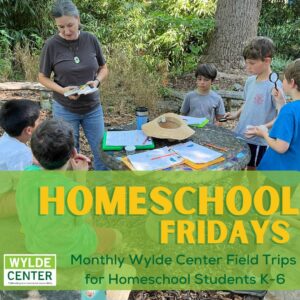 Homeschool Fridays give home school students and groups the opportunity to participate in a Wylde Center Field Trip. Students will receive a tour of the…
Read More
Explore Wylde Center's Five Gardens