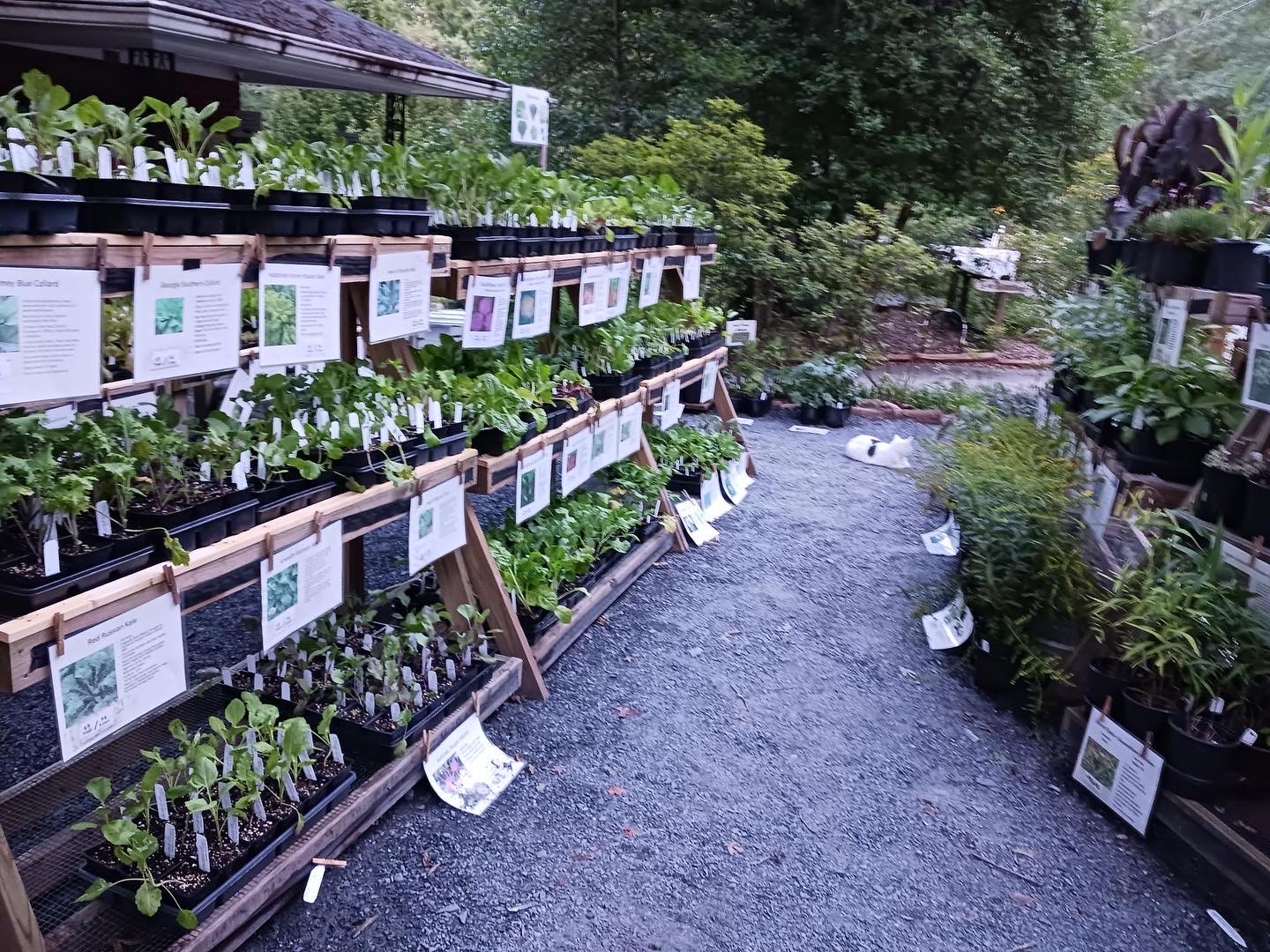 Self Checkout Plant Sale:
Our self checkout plant sale is in front of our Oakhurst Garden at 435 Oakview Rd. Decatur, GA 30030. The sale is open during daylight hours during our seasonal sales (March - June and September-November). Payments can be made via PayPal (payments@wyldecenter.org), or by dropping cash or a check in the front door. Instructions for payment are posted on the front porch. You will find that all of our plants are labeled with the plant name and growing information.
*Please note that only plants in the sale area are available for sale. Plants in "staff only" areas around greenhouse and back stock are not yet available or reserved. Please follow signage on site.
Online Pre-Sales:
Our online pre-sales will look a little different than in years past. This Spring 2023 season we will have 3 online presales for Fruit Trees, Cool & Warm Season Plants. Listed below are the dates that our online store will be open for preorder and their corresponding pick up dates. (Dates are subject to change, weather dependent. Our newsletter and social media will have the most up to date information.)
Fruit Tree Pre-sale: 
Online store open: 2/1- 3/12
Pickup:  3/15-3/17
Spring Pre-sale (cool season veggies, herbs, perennials, annuals)
Online store open: 3/6-3/12
Pickup: 3/15-3/17
Summer Pre-sale (warm season veggies, herbs, perennials, annuals)
Cancelled. Please shop in person at our plant sale located at 435 Oakview Road, Decatur, GA  30030. We are open every day during daylight hours. Self-checkout applies using PayPal, exact cash, or a check made out to Wylde Center.
Plant Sale Festival:
Our 2023 Spring Plant Sale Festival will take place the weekend of April 15th and will start with a Member preview on Friday April 14th! Check back as we confirm vendors and times. 
Friday April 14th
Members preview. Wylde Center members get to shop the sale early. Not a member? Click HERE to become a member today.
Saturday, April 15th
Festival day! Open to the public. Come out for our largest selection of plants of the year. This will be the debut of our summer. There will be other vendors, music and plenty of cashiers to assit as well as Wylde Center staff to help with any questions. 
Sunday, April 16th
This day will close out our festival weekend. We will have cashiers to assist you with your orders.
Not able to attend the festival? That's ok, our self checkout will be open through the end of June.
Sponsor this event:
We are currently accepting sponsors for this event. Sponsorships range from $250-$3000. Our sponsors enjoy visibility prior, during, and post event through our website, social media channels, and direct communication to our patrons. Please contact Carrie@wyldecenter.org for more information about sponsoring this event
Vend this event:
We are currently accepting vendors for this event. If you are interested in becoming a vendor 2023 Spring Plant Sale Festival, contact viri@wyldecenter.org 
Volunteer this event:
To volunteer for this event please contact volunteer@wyldecenter.org
---
**Our seasonal plant sale dates and availability may fluctuate depending on weather conditions and a variety of other factors. Check the Availability and Pricing page HERE for what you may find throughout the year. For the most up to date information check out our newsletters and social media!