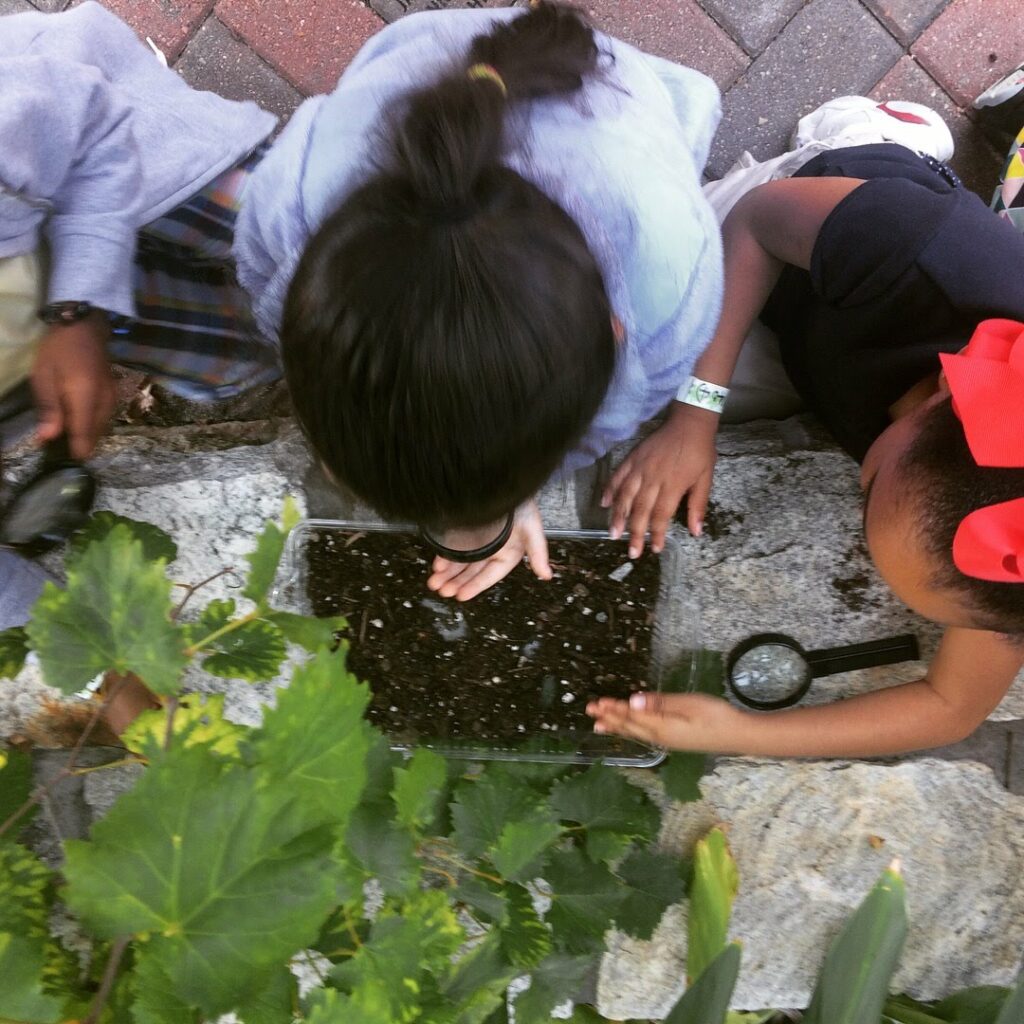 We invite you and your class to join us for a unique hands-on environmental education experience this season!
Since 1997, the Wylde Center has been dedicated to providing outstanding hands-on environmental education experiences for students. Our environmental education field trips bring students to our five greenspaces to explore the science of the natural world.
Our interactive classes are led by highly trained and enthusiastic environmental educators. As students encounter our gardens, streams, and woodlands, they learn to think critically, creatively, and responsibly about the world around them. All Programs Align with current grade level Georgia Standards of Excellence (referenced for each program).
Book an Outdoor Field Trip Today!
We are now accepting bookings for the 2021-22 school year. In person bookings are contingent on the Wylde Center's pandemic protocol, school policies and CDC recommendations. 
Time slots fill quickly, so we suggest booking at least two months before your desired date. We are typically unable to accommodate requests received less than two weeks ahead of your preferred date. We accept reservations up to one year in advance.
For questions about field trips and school visits, or to book your visit, contact us at scheduling@wyldecenter.org or call 404-371-1920. Please include your email or be prepared to provide over the phone: your name, your organization's name, preferred date(s) and time(s), preferred topic, preferred location (if any), number of students attending, and student grade level.
Field Trip Pricing
1 hour trip (grades K-12): $5/student
1 hour & 30 minutes trip (grades K-12): $7/student
Teachers and chaperones: free
Please note that the minimum field trip cost is $50.
Contact scheduling@wyldecenter.org for more information!
Field Trip Locations
The Wylde Center has 5 green spaces available as field trip sites:
Please note:
Field Trips are offered Monday through Friday, 8 am-5 pm and are generally one hour to 1½ hours long.
We can modify any program described here or create new programs to best fit your school's needs.
We may ask groups larger than 30 students to come in separate groups to maintain small class size.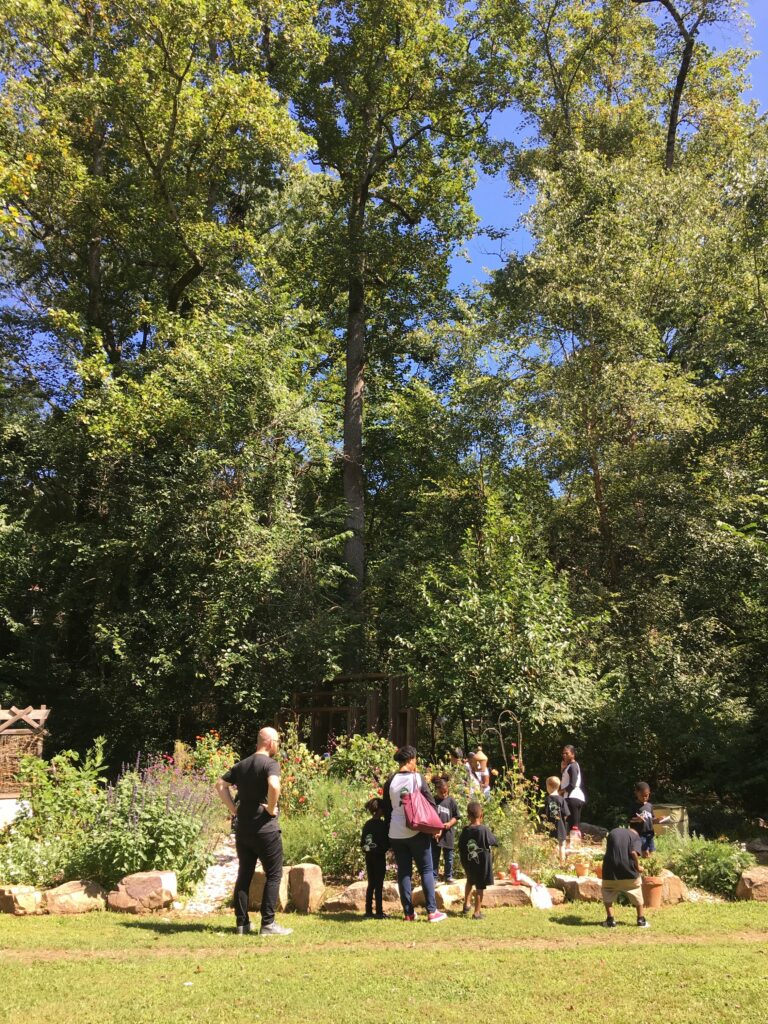 Virtual Field Trips
The Wylde Center is currently offering pre-recorded field trips with an optional live component. Field trips are slideshow based, with plenty of video content. We are also offering the option of a live 15-minute Q&A with a Wylde Center educator for an additional $15 per class. Please visit our online shop to purchase a recording, and reach out to Nichole Lupo at nichole@wyldecenter.org to schedule your live Q&A!
Topics:
Garden Life Cycles
Georgia Washington Carver
All About Compost
Habitats and Ecosystems
Constructive and Destructive Forces
Contact: sarah@wyldecenter.org for more information.
Meet the Wylde Center Education Team!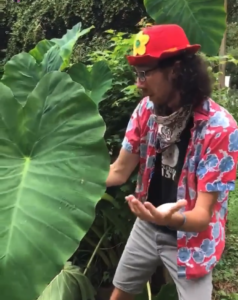 Thom Flynn
Educator
Thom joined the Wylde crew in April 2018! He grew up into Chicago (and loves their pizza), but has since been bouncing around the United States working seasonal jobs. Most of his time has been spent in the woods of New England teaching at a residential environmental education company. However, during the summers, Thom has worked on farms and lead conservation trail crews in Connecticut, Illinois, and Oregon. While new to Atlanta, he is stoked to be able to combine his love for education and farming at the Wylde center; running around with kids and vegetables is his passion! In his free time, he enjoys kayaking, running, woodcarving, journaling, traveling, and hanging out with chickens.
Jillian Eugene
Educator
Jillian grew up in Atlanta attending the Waldorf School during her formative years and later attended Eckerd College and majored in Anthropology and Spanish. While in college, she studied abroad for a year in Spain, did medical anthropology research in Mexico, and gained initial experience teaching gardening lessons to elementary school students with the Edible Peace Patch Project. After graduating, she taught English in a small, beautiful town in Thailand to 2nd-6th grade for a year and a half. She later returned home to become a FoodCorps Service Member at Wylde Center, teaching gardening, nutrition and cooking classes at two Atlanta Public Schools. She is happy to continue as an educator with Wylde Center! When not working, she enjoys traveling, swimming reading, painting and spending time outdoors.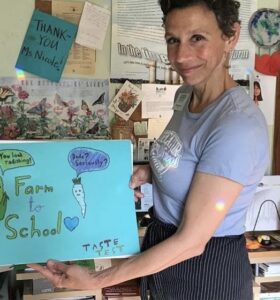 Nichole Lupo
Farm to School Manager
An educator and musician, Nichole Lupo grew up gardening with her dad in Lexington, South Carolina. She got her first job in a restaurant and her love of good food was born. Searching for a way to combine her love of growing and eating fresh food with her desire to continue teaching children, Nichole began working with metro Atlanta's Farm to School movement in 2007. She has spent the years since writing and implementing garden-based whole foods nutrition curricula, leading Farm to School workshops for teachers, instructional coaches and principals, and teaching in classrooms and gardens connecting existing curricula to delicious, garden-fresh food. Nichole has been the farm to school manager at the Wylde Center since November 2012. She enjoys working with her committed colleagues, her talented teachers, and her excited, inquisitive students.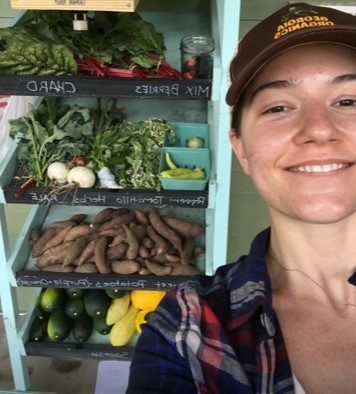 Sarah Dasher
Education Director
Sarah joined the Wylde Center in 2016 as an educator after a brief career as a copywriter and editor. Though she has been actively engaged in the Atlanta food system since college, her love of teaching came as a surprise in 2014, when she spent a year teaching in school gardens as part of the first cohort of FoodCorps service members in Georgia. During this time she discovered the absolute joy of supporting young eaters' explorations in garden and kitchen classrooms. Her happy places are leading a class through the Wylde Woods for an ecosystem exploration, spending time with the chickens during after school programs, and sitting around the table with young eaters trying a meal they prepared together.