Stephanie Van Parys
Executive Director
Stephanie Van Parys spent 8 years of her youth living in Germany, where she spent many hours roaming the pastoral landscape and food gardens around her grandfather's house. When it came time to choose a field of study, the gardening trait that runs throughout her family could not be denied and she studied horticulture at the University of Georgia. Joining the Wylde staff in 2005 as the executive director, Stephanie is just as committed as she was on her first day to creating spaces for the community to discover the wonders of nature and teaching everyone how to grow their own food. Never one to keep her nails dirt-free, you will find Stephanie in her own garden each weekend.
Favorite vegetable to grow: Eggplant
Favorite plant to grow: Pink Coneflower
Favorite place to eat: I have to choose?!
Derek Pinson
Greenspace Director
Derek Pinson originally hails from the small mountain town of Ellijay, Georgia, but has lived in Atlanta for the last five years. Gardening is in his blood, as he comes from generations of "plant people," but he didn't begin to make a career of it until his mid-20s when he stepped away from his job as pharmacy technician to pursue his passion and volunteer on organic farms around the world. From that point on he has been certified in permaculture design, managed a small organic farm, managed Wylde Center's Edgewood Community Learning Garden, worked as a horticulturist at the Atlanta Botanical Garden, and eventually returned to the Wylde Center as Greenspace Director. He lives for nature, taking every opportunity he can to hike or camp in the beautiful North Georgia Mountains.
I love having the privilege of witnessing folks' reactions when they see for the first time how their food is grown: the shapes of the leaves, the flowers becoming fruit, the connection of sustenance to earth, especially when they have grown it with their own hands. To be able to help people reconnect to nature in this way is a real honor.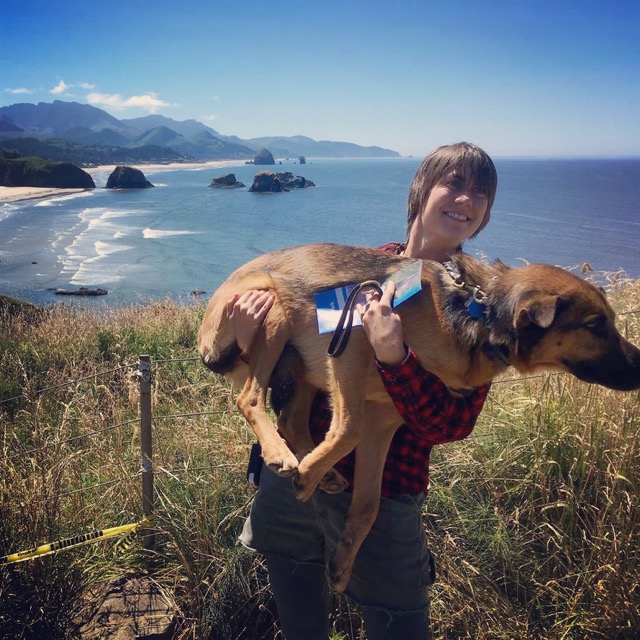 Emily Brabeck
Plant Sale Coordinator
Emily grew up in Chicago, but spent a lot of time outdoors. After college, she was drawn toward self-sufficiency and sustainability, which led her to pursue agriculture and permaculture design by work-trading and living on the farms she worked. She has since implemented farm food safety protocols for Kennesaw State University's farm as the assistant manager, and created edible landscape and garden designs and installations. She has earned certifications as a master gardener, permaculture designer, certified compost operator, and in produce safety and HAACP training. She studies herbal medicine and apprentices with The Herbalista in Atlanta. Her favorite activity other than cultivating plants is hiking and foraging for wild edible and medicinal plants with her canine companion, Star.
Favorite vegetable to grow: tomatoes
Favorite plant(s) to grow: medicinal herbs, and "weeds"
Favorite place to eat: outside
Sarah Dasher
Schools Program Manager
Sarah develops and implements the Wylde Center's education and community outreach programs. An Atlanta native, she is a fiend for peaches and tomatoes but is still learning to love okra. In 2014 she was lucky enough to be part of the first cohort of FoodCorps service members in Georgia. During this time, she discovered that she loves teaching children about the magic of growing food, which she has gotten to continue doing since joining the Wylde Center in 2016. During the week, you will find her teaching in a school garden or leading after school clubs.
Sarah loves seeing students who were previously scared or uninterested in the garden get excited about eating the vegetables we grew or clamoring to hold an insect. She enjoys seeing a group of students independently working on garden tasks, working meditatively and taking ownership of their garden.
Favorite vegetable to grow: Beefsteak tomatoes
Favorite plant to grow: Calendula
Favorite place to eat: Taqueria del Sol
Jillian Eugene
Educator
Jillian grew up in Atlanta attending and attended Eckerd College and majored in Anthropology and Spanish. While in college, she taught gardening lessons to elementary school students with the Edible Peace Patch Project. After graduating, she taught English in Thailand to 2nd-6th grade for a year and a half. She later returned home to become a FoodCorps Service Member at Wylde Center, teaching gardening, nutrition and cooking classes at two Atlanta Public Schools.
Jillian loves being an educator at the Wylde Center because she gets to combine her passions of teaching, gardening and healthy living. Whether she's teaching about the five senses, exploring the water cycle, or leading after school cooking lessons, she feels it's always a joy to connect kids to nature and provide them with memorable hands-on learning experiences.
Favorite vegetable to grow: Tomatoes & radishes
Favorite plant to grow: Basil & chocolate mint
Favorite place to eat: Madras Mantra & Taqueria del Sol
Thomas Flynn
Educator
Thom joined the Wylde crew in April 2018! He grew up into Chicago (and loves their pizza), but has since been bouncing around the United States working seasonal jobs. Most of his time has been spent in the woods of New England teaching at a residential environmental education company. However, during the summers, Thom has worked on farms and lead conservation trail crews in Connecticut, Illinois, and Oregon. While new to Atlanta, he is stoked to be able to combine his love for education and farming at the Wylde center; running around with kids and vegetables is his passion! In his free time, he enjoys kayaking, running, woodcarving, journaling, traveling, and hanging out with chickens.
Certifications: Wilderness First Responder, CPR.
Favorite Vegetable to grow: Beets
Favorite plant to grow: Beef Steak Tomatoes
Favorite place to eat: Flying Biscuit (or anywhere with real Maple Syrup)
Sara Hempen
Education Director
Sara grew up in the Atlanta-area and studied at the University of Georgia where she earned a dual degree in history and education. Since graduating from college, Sara has worked for non-profit organizations including Boy Scouts of America, CASA, Children's Museum of Atlanta, and Coastal Heritage Society where she has gained experience in many areas such as program development, special events coordination, education, and project management. In late 2019, Sara relocated back home to the Atlanta area from Savannah, GA with her husband, her cat Bubba, and her dog Nelly. She is thrilled to be living in such a tight-knit community and working with the wonderful team at Wylde Center.
Tamara Jones
Hawk Hollow Site Coordinator
Hailing from Minneapolis, Minnesota, Tamara Jones joined the Wylde Center as the new site coordinator for Hawk Hollow in June 2015. She brings her experience as site manager of the Decatur High School community garden and her work with the DHS culinary arts department. She completed the Dekalb County Master Gardener program in 2010 and has put in many volunteer hours gardening. She is excited to be working at the Wylde Center because she loves working in gardens, especially when it involves working with people of all ages. She has enjoyed learning about planting Georgia's native plants at Hawk Hollow and loves teaching people about them.
Favorite vegetable to grow: Herbs and okra!
Favorite plant to grow: Anything native
Favorite place to eat: My house using produce from my garden
Blair Keenan
Development Director
Joining Wylde Center in 2016, Blair brings nearly 15 years of experience in nonprofit development to the team. Blair leverages her skills in fundraising strategy and her background raising multi-million dollars for local and national profits to serve the Wylde Center mission. Most days, you'll find Blair at the Oakhurst Garden working to connect with Wylde Center members, create partnerships with local businesses, and secure foundation grants so that Wylde Center can keep connecting people to nature.
Blair is thrilled to be part of Wylde Center, an organization that speaks to her passions for gardening and sustainability and that demonstrates real, impactful change in her community.
Favorite vegetable to grow: Cucumbers
Favorite plant(s) to grow: Anything edible!
Favorite place to eat: On her back deck
Nichole Lupo
Farm to School Manager
An educator and musician, Nichole Lupo grew up gardening with her dad in Lexington, South Carolina. She got her first job in a restaurant and her love of good food was born. Searching for a way to combine her love of growing and eating fresh food with her desire to continue teaching children, Nichole began working with metro Atlanta's Farm to School movement in 2007. She has spent the years since writing and implementing garden-based whole foods nutrition curricula, leading Farm to School workshops for teachers, instructional coaches and principals, and teaching in classrooms and gardens connecting existing curricula to delicious, garden-fresh food. Nichole has been the farm to school manager at the Wylde Center since November 2012. She enjoys working with her committed colleagues, her talented teachers, and her excited, inquisitive students.
Favorite vegetable to grow: Sweet potatoes
Favorite plant to grow: Herbs
Favorite place to eat: My kitchen table—my husband is a handsome, gifted chef!
Viridiana Graham
Public Programs Coordinator

publicprograms@wyldecenter.org
Description & photo coming soon!
Cardoon the Cat
Director of Paw-perations

Jill Wasserman, Chair,  Boehringer Ingelheim
Caitlin Greene, Co-Chair, Peach House Farm
Adele Gipson, Treasurer, Consolidated Planning Corp.
Tayiba Garcia, Secretary,  Infor
Nicole Fehrenbach, CDC
Emily Gallagher,  Alston & Bird
Eric Mack, Contemporary Artist/ Educator
Carl McClatchey, McClatchey Group
Carrie Parker, PricewaterhouseCoopers
Stephanie Ramsey, Retired CDC
Linda Sheffield, Retired
Brandon Tai, Honey Next Door
John Threadgill,  RDO / Georgia Tech