by Tatiana Gonzalez, FoodCorps Service Member 2023-2024 at Wylde Center
Being a FoodCorps service member has confirmed my passion for this work, and has
continued to increase my desire to learn more through these experiences. From student
interactions to time in the garden, I have gained so much while also enhancing my awareness of
how much there is left to learn.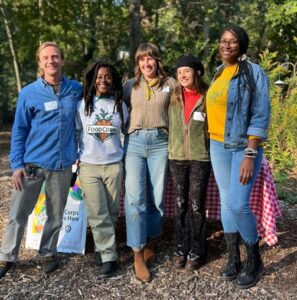 Multiple personal experiences come to mind – one that I remember fondly, relates to the
community component attained through this position. Partnering with the Wylde Center led to
being involved in a Farm to School event where communities gathered to share the different
ways that we can relate Nature to the classroom. At this event, I felt blissed out; sharing space
with those who share similar values, who want to see the world evolve in a similar way, where
education and the environment are linked in such a way where we forget we are separate from
one another. I prepared a spinach pesto, while the two other service members prepared other
Spinach inspired foods to honor 'Spinach to Win It' month.
Another experience I've had during this service term inspires the teaching component of
this position. One morning, I gathered my third graders outside to the garden classroom where
we learned about Bulb Botany, and how different bulbs look compared to one another. Later, we
planted daffodils and tulip bulbs in the garden. I remember this morning so vividly, because I
could see the curiosity and playfulness of the students – they noticed how when you sliced one
of the bulbs open, it looked like an onion and so I asked them to draw their observations. Now,
as we approach Spring, the tulips and daffodils are now starting to open – holding the memory of
that morning through the vessel of blooms.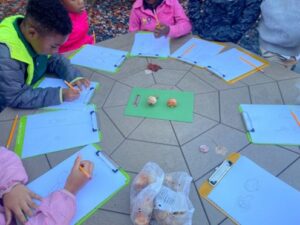 Related to that experience, the gardening component of being a service member has
ignited a creative light and love for creating garden spaces. It fills me with curiosity to discover
which plants grow best in which seasons, what the best companion plants are best to plant
nearby, and which pollinator plants could enhance the yield of certain fruits and vegetables.
Learning how to incorporate gardening back into the classroom has also been a fulfilling
journey, one which I hope to continue.
And lastly, another one of the experiences that I look back on are the various different
taste tests I've conducted at both schools. Some were in the classroom and involved a cooking
demonstration. Some were school wide and included students receiving a small sample. These
taste tests have shown me how brave kids are in trying new things – while also recognizing that
they are inspired to eat together as a group and that group dynamics really influence how we
connect with our food. When doing a sweet potato cooking demonstration at one of my schools,
the kids felt a part of the process and kept sharing how much they enjoyed it and how they were
inspired to prepare roasted sweet potatoes at home with their families. And it made me
remember the impact we can have on enhancing the communities we are a part of, however
small.