Wylde Wreaths 2023
November 30 @ 4:00 pm

-

December 9 @ 7:00 pm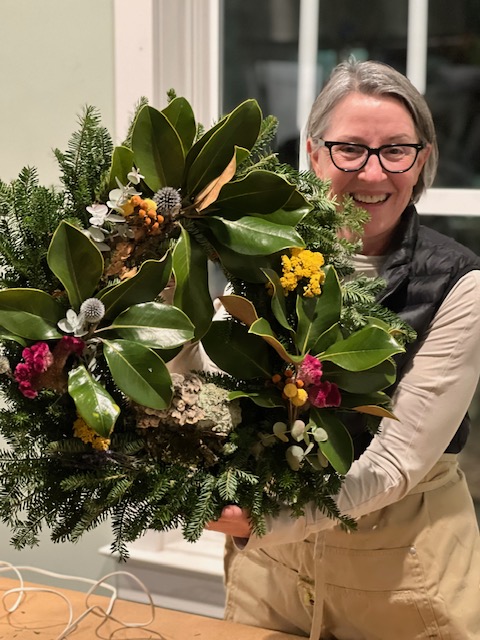 'Tis the season for Wylde Wreaths!
Join us for the beloved annual tradition of creating a beautiful wreath for the holidays. 
Wylde Center will be hosting its annual Wylde Wreath fundraiser on November 18 (pick up only) and Nov.30- Dec.9, 2023. This event has become a beloved tradition, and many friend groups come to Wylde Wreaths for their annual gathering!
Wylde Center will be renovating its main office at the Oakhurst Garden in 2024. Wylde Wreaths will be the last event hosted in the old version of this building. In celebration of these changes, the event this year will be made extra special including a small Wylde Market featuring local partners and merchandise.
---
Make a wreath at the Oakhurst Garden in Decatur, GA
Choose a date, gather your friends (or enjoy a quiet solo evening), and register for your time slot from the several that are offered between November 30 to December 9. Your registration fee includes a wreath, a ribbon, and a full table of beautiful natural materials to glue onto your wreath. Feel free to bring your own food and beverages to enjoy while creating your wreath.
Please note: Due to a  limited number of registered participants will be allowed on-site at one time to decorate their wreaths and select their decor, we ask that only people who purchased a wreath attend the event. Registrants are also welcomed to bring their beverage of choice!
Make a wreath at home
We also offer a take home option. Register for a time slot on November 18, December 2, and December 3. During your time slot, you will pick up your wreath and materials you want to use to decorate your wreath at home or with a group of friends. You will need to provide your own glue gun for this experience.
---
Registration is open.
Purchase your wreath

HERE.
Wylde Wreath Dates
Make a wreath at the Oakhurst Garden
Session 1:  Nov. 30, 7-9 PM: SOLD OUT
Session 2:  Dec.1, 7-9 PM: SOLD OUT
Session 3:  Dec. 2, 3-5 PM: SOLD OUT
Session 4:  Dec. 2, 7-9 PM: 20 spots available
Session 5:  Dec. 3, 1-3 PM: 2 spots available
Session 6:  Dec. 3, 4-6 PM: SOLD OUT
Session 7:  Dec. 7, 7-9 PM: SOLD OUT
Session 8:  Dec. 8, 7-9 PM: 6 spots available
Session 9:  Dec. 9, 12-2 PM: 23 spots available
Session 10:  Dec. 9, 3-5 PM: 26 spots available
Session 11:  Dec. 9, 7-9 PM: 26 spots available
Make a wreath at home – pick up materials dates
Nov. 18 12-4 PM
Dec. 2 3-5 PM
Dec. 3 1-6 PM
Questions? Contact kristy@wyldecenter.org
Are you interested in sponsoring Wylde Wreaths? Please reach out to carrie@wyldecenter.org
Related Events